Recreation
Contact Information:
Recreation Co-ordinator
E-mail: This email address is being protected from spambots. You need JavaScript enabled to view it.
Phone: (902) 867-5595
Active Living Co-ordinator
E-mail: This email address is being protected from spambots. You need JavaScript enabled to view it.
Phone: (902) 867-5596
General Recreation
E-mail: This email address is being protected from spambots. You need JavaScript enabled to view it.
Phone: (902) 867-5596
Town of Antigonish Recreation
Antigonish Town Recreation is dedicated to providing sport, recreation and leisure activities for the citizens of Antigonish. The department concentrates on maximizing the Towns existing assets as well as building on its proud heritage and culture. To achieve their vision and with the available resources, the department will provide programs, services, facilities, plus advice and assistance to individuals, community groups and organizations.
Antigonish Town Recreation boasts some of the best playing fields in the province; these fields include a state of the art Artificial Turf field; a practice field at Columbus Field, and two lit ball fields. Within the town, and working in conjunction with the recreation department, are several groups who provide recreational activities to the children and youth of the area: Minor Soccer, Minor Baseball, Minor Football, and The Highland Touch Football League, to name a few.
Stay Up-To-Date with Town of Antigonish Recreation
FACEBOOK PAGE: You can also 'Like' us on Facebook! Click here to see our Facebook page.
The 2016 Fall Edition of 'Talk of the Town' is Now Available!
You can view it online by clicking here.
You can also download the PDF version by clicking here.
Free Physical Activities!
For PDF version of brochure pictured below, click here.
Afterschool Yoga at JH Gillis
Beginning Tuesday October 18th and running every Tuesday until December 20th, students from Dr. J.H. Gillis are invited to take part in after school yoga from 3-4 PM.
To download a registration form please click here.
Equipment Rental and Loan Program
We have snowshoes for rent ($5/pair) and skis and pedometers for loan - free of charge.
For more information on our equipment, click here.
The Town of Antigonish Physical Activity Strategy
On Nov. 16th, 2015, Town Council adopted a Physical Activity Strategy for the Town of Antigonish. The Strategy is a document that will be used as a guide by community organizations, agencies, business, and municipal leaders to increase physical activity levels in the Town of Antigonish. The Strategy was created in response to unacceptably low levels of physical activity among citizens of the Town.
Click here to view the Town of Antigonish Physical Activity Strategy.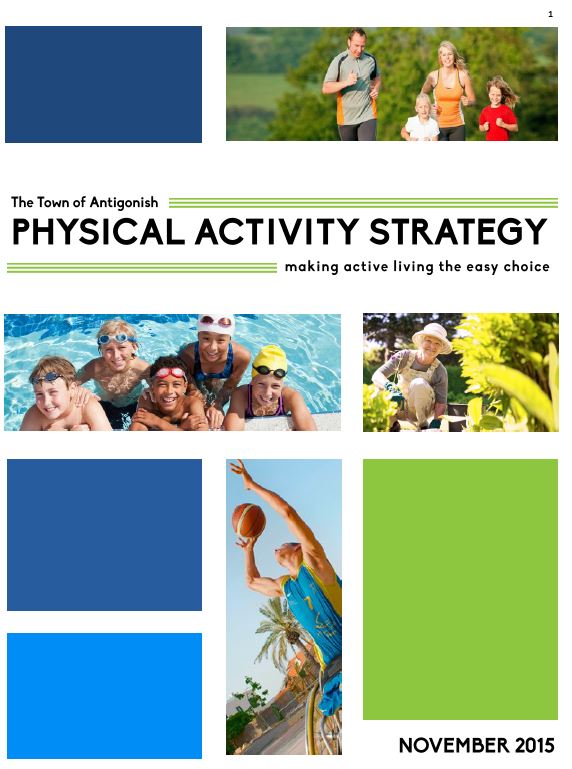 So you want to book a field? Here's how to do it in 3 easy steps;
Download the field booking form: Field User Rental Agreement
Fill in the form;
Submit to

This email address is being protected from spambots. You need JavaScript enabled to view it.
We will contact you with an up-date on your requests.
Further questions please contact Tricia at 867-5595. Antigonish Town Hall.
Other recreational facilities within the Town are Columbus Field, Chisholm Park, Whidden Street playground, and Arbor Drive playground. Columbus Field, the largest park within the Town, boasts two tennis courts,a lit walking trail, a running track and a great water park for kids!
Special Events Application Form
Are you planning a Special Event? Click here for more information and details.
Bench/Bike-Rack and Tree Dedication Program
Through our Bench, Bike-Rack and Tree dedication program, friends and families can create a dedication or memorial by placing a public bench, bike-rack or tree in one of the Town of Antigonish parks, playgrounds or walk-ways. Each dedication carries a different story through the words engraved on the plaque. These lovely dedications with their bronze plaques serve as a lasting reminder or a timeless gift to a loved one.
For complete details and application please click here.
Antigonish Town & County Active Transportation Plan
In November, 2013, The Town of Antigonish in partnership with the Municipality of the County of Antigonish, announced the commencement of a project to prepare an Active Transportation plan that will become an important step on the road to sustainable transportation. This new plan will identify a number of strategic priority areas to improve pedestrian and cycling conditions in the Town and County.
The plan will expand on work already completed to date, including the popular Antigonish Landing Trail, and will result in the drafting of action plans and policy recommendations designed to make walking and cycling more comfortable and enjoyable for all residents.
The planning process had a number of components: a pubic on-line survey; field analysis and a background review and update of previous planning efforts; public meetings; and finally, the development of a strategic plan and design guidelines.
The MMM Group, the firm responsible for providing professional and technical support for this plan, have completed the community consultations and have issued a draft copy of the plan to Municipal staff.
Highland Connect
Looking for something to do? Check out Highland Connect! It is an online guide for active living resources: Highland Connect
Recreation Support
All forms can be picked up and dropped off at the Antigonish Town Hall Recreation Department, or by clicking below to print off the application.
Gary Boone "Physical Activity" Leadership Development Fund Application
Highland Region for Physical Activity, Sport and Recreation
The Highland Region serves the counties of Antigonish, Pictou and District of Guysborough. Population in the region is 74,400 with two primary service areas of the Town of Antigonish and the towns of New Glasgow, Stellarton, Westville, and Trenton as well as the Town of Pictou in the western section of Pictou County.
Their office works in collaboration with municipalities, recreation directors, regional health, school and economic development boards and groups such as Pictou County Recreation Coordinators and the Highland Region Recreation Coordinators.
For more information, visit Highland Region.