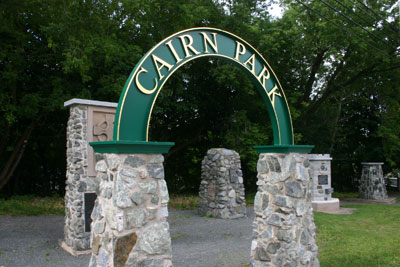 The Town of Antigonish and surrounding area have a variety of parks. Each park has its own unique charm while at the same time allowing the visitor to relax and enjoy the beauty. The parks of Antigonish range in size, services and general location within the town and county.
Columbus Field on Main Street in Antigonish provides a play area for both families and organized athletic teams. This is the venue for the field events of the annual Antigonish Highland Games. It offers a track, soccer field, two baseball fields, 2 hardcourt tennis surfaces, and a playground.
The Colin H. Chisholm Park, named for a long-time mayor, is tucked away in the downtown of Antigonish. The park sits between the post office and Whidden's Bridge on the west end of Main Street. It plays host to outdoor concerts, highland dancing exhibitions, and is a great spot for visitors to rest while strolling the downtown area.
In the east there is Pomquet Provincial Beach and Park. This park, with its abundance of dunes, overlooks St.George's Bay and is definitely for nature lovers. It offers more than just a sandy beach. There are a series of thirteen dunes that stretch four kilometres. These dunes have been developed over the last one thousand years. In the oldest dunes there are white pines, red oak, and many other species, as well as salt and fresh water marshes along with rare plants and a variety of animals.
Summer visitors include the endangered Piping Plover, terns, ospreys, blackbears, and many shorebird species. Year round residents are the white-tailed deer, fox, coyote, raccoon, mink, bald eagles, and ducks.
Within the park is an extensive boardwalk so visitors can explore the dunes. There is a picnic area that contains change-houses for those who wish to experience miles of sandy beach unlike any other found in Nova Scotia.
Further east is Bayfield Provinical Park, a great place to dig for clams! This park offers a roadside beach that is very sandy and has plenty of dunes. It is located 22 kms from Antigonish Town. Changehouses, washrooms, and parking are available.
Across the road from the beach is a small park, where you can have a picnic. Along the shore you can go clam digging, or buy some fish from the pounds near the wharf.
Overlooking the warm waters of Nova Scotia's Northumberland Strait, Arisaig Provincial Park offers a fascinating window to life on Earth some 400 million years ago. This park also marks the spot where the first highland scots arrived.
One of North America's most continuously exposed sections of Silurian rock, representing 4 million years of earth history, is found in the park. Fossils of brachiopods, nautiloids, trilobites, snails, crinoids and many other animals are evident in the sea-cliffs and in rock outcrops within the park. Much of the park was once farmed but is now largely covered with white spruce.
An interpretive kiosk, trails, and picnic areas help ensure an interesting and enjoyable experience.
Located 11 kms from the Town of Antigonish, in the western end of the county, Beaver Mountain Park'snetwork of roads and trails provide great opportunities for everyone. Full of a variety of species of trees and wildlife. The park gives the visitor a wonderful view of the town. Once a campground, the park has picnic facilities, as well as walking, hiking and cross-country ski trail in the winter.