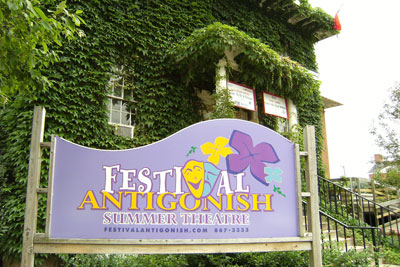 Festival Antigonish Summer Theatre is Nova Scotia's longest running professional summer repertory theatre operating primarily in July and August at the lovely Bauer Theatre on the StFX University campus.
Its goal is to offer something for everyone: an entertaining Main Stage Series of comedy, musicals and/or thrillers; a cutting edge Late Night Series presenting new plays by some of Nova Scotia's most interesting playwrights; and plays for children's at convenient times during the day.
The goal is always to perform to the highest professional standards and employ the best artists the province has to offer.
The Bauer Theatre patio has become a meeting place where guest are encouraged to linger for entertainment and refreshments.
For more information and a detailed schedule please visit Festival Antigonish.
Theatre Antigonish runs year-round with major productions and one-act play festivals. The theatre brings together the Antigonish and StFX University communities.