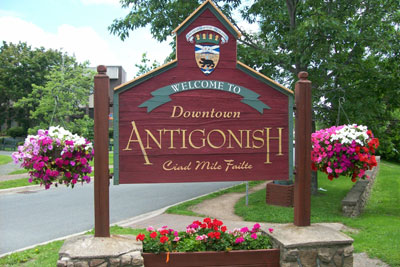 The Town of Antigonish was incorporated in 1889. Like many other communities in Nova Scotia, Antigonish Town prides itself on being able to offer a good standard of living and a unique quality of life to its citizens. Much of our history confirms our recognition of the importance of individuals, family, and the value of community.
Established as the Highland Heart of Nova Scotia, Antigonish is the home of the oldest continuously run Highland Games in North America. Each year, the "games" bring people from all over the world to witness these events and share in our culture and history. In all of this - and more - Antigonish Town has cooperated with Antigonish County and with other groups and organizations, large and small, to achieve outstanding success that is recognized around the world.
Established in 1853, St. Francis Xavier University moved its campus to Antigonish Town in 1855. StFX is now in the middle of an extensive building program, and in 2002 the citizens of the Town donated generously to the construction of the new Charles V. Keating Millennium Centre on campus. Antigonish's rich Architectural History also includes the foundation and establishment of the Sisters of St. Martha's Bethany House. The Sisters built St. Martha's Hospital in 1906 and a School of Nursing, which has become world renown. The strong "sense of community" was reflected in 1986 when Antigonish led the way in raising the initial $6,000,000 to build a new hospital. Mount St. Bernard College and St. Francis Xavier University have made the town their home. The relationships these institutions have interwoven with the Town make it the unique place it has become. Antigonish is indeed the centre for important Health and Educational institutions, which have essentially placed it on the map.
Visit Statistics Canada for the Census Profile of Antigonish.